KOPO ME is a chat-based journey, story, adventure, and learning platform. Create exciting adventures, stories, learning experiences and share with friends.
Recent Updates
Quick Game. Instantly generate a random game with a quiz. +10,000 combos of games, themes, and quizzes. Enjoy and learn!

Kindergarten Program Products for E-POS.



Schools can now create kindergarten term products in E-POS terminal.
Children can be added for each term products.
Parents can enjoy activity alerts and reports of their children.

Mobile Learning Games. Create your own games to help students learn faster and enjoy learning.
https://www.kopo.com/?sid=14 

Spelling check available in journey editor. Right click on the word you want to correct and select the correct word.
Creating events (training sessions, semesters, classes, training sessions) to allow students to sign up.


Click "Tutoring" menu item to open the tutoring application.
In the journey list page, click the journey for which you want to create the event.
Click "Add Event" button and enter the details of venue and time.

Now students can sign up for the event from the journey page.

Check who signed up for the events in the event page of the "Tutoring" application.
Highlights
Create your own game in minutes. Play and learn automatically. Play hard and win!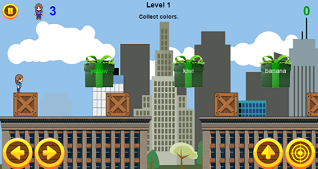 Lucy Conversation Agent API. Build your own intelligent agent using Python.
Big Data Consulting Club. Join professional consulting group. Open to all. Practice your skills.
Work Integrated Learning for IT students. Work and study.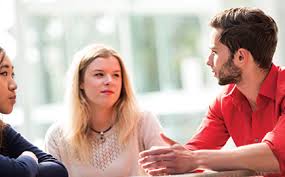 Breath Sound Analyser for Children (KDAC)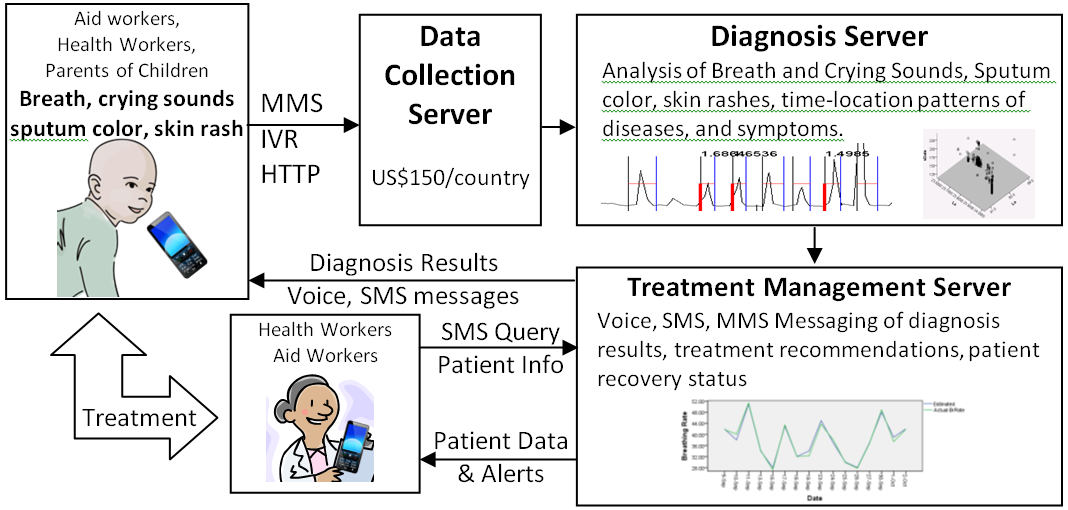 Getting Started 

Complete chapter activities to earn credits . Create an account, enroll to a chapter with activities, you can then start to earn credits for awards. Check your credit as you achieve more.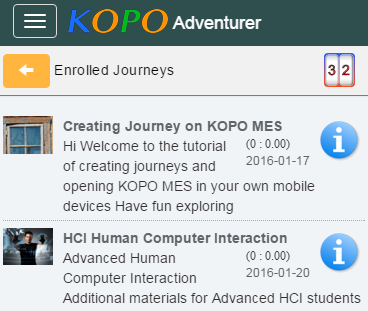 KOPO Mobile Education is a messaging-based education system. It has five components.
Adventurer: View and start journeys created by friends, schools, teachers. Chat with friends and designers.
Designer: Design journeys for adventurers.
Supporter: Designers can support adventurers and communicate with them.
File repository: Secure online free file repository.
Contact management: Manage contacts, send invites to friends.
How to create an Account
Open the registration page from the login dialog box or the side menu.
Enter user name, password, and email address. Please note that the email will be used to reset password and receive important messages.
Click Create Account button. You will then receive a confirmation email. Please follow the instruction in the email to verify your account.
What is a journey?
A journey can be a subject, training course, technical article, online profile, recipe, personal story, or travel diary that are created by users who want to share their learning experience. Some journeys have chapters and some chapters can have activities. Activities can be quizzes, questionnaire questions, games, or expert agents who provide some specialised services, such as stock recommendations.  
How to enroll to a journey
You can enroll to journeys that have chapters. Chapters are personal chat channels either guided by Lucy or a tutor. Browse journeys with chapters in the journey list page. If you like the journey, simply click Start Journey button, and you will be enrolled to the journey.

The journey will then be listed in your enrolled journey list. You can now send personal messages to Tutor or follow instructions of Lucy if the journey has activities or operated by Lucy conversation agent.
You can also find a user and browse journeys created by the user. A group of users (students) can attempt a journey together and participate in group competition.
How to enroll to a chapter
Chapters are landmarks of a journey. A chapter can be just a topic or quizzes, questionnaire, games, or expert agent. Click on Chapter list icon in Journey list page to browse available chapters.  if you like the chapter, simply click Start Chapter buttons. If you have not enrolled to the journey of the chapter, you will automatically enrolled to the journey as well and the journey will be listed in enrolled journey list page.
Menu Buttons for Quick Navigation
Click on Journey List to view a list of available journeys and summary of chapters. Click on the forum icon to chat with the designers and other adventurers. 
Messages button show the number of recent messages. Initially you will not see any chat channels list here. Enroll to some journeys and chapters or add some friends, and send messages. You will then see the chat channels listed here.
Use messages page to quickly navigate to chat channels. This page shows a list of chat channels (friends, chapters, and forums of journeys) with recent messages. The numbers shown on the right represent the number of new or recent messages in the chat channels.
KOPO MES Player
Use the player to view journeys, which can be subjects, stories, support channels, learning activities. A journey can have one or more chapters. A chapter can have activities, which can be quizzes, surveys, video, image, music, or even interactive applications. To view available journeys, click on Journey List. To view details of a journey, click on a journey in the list. Enroll to journeys to view chapters of the journeys. Lucy (AI guide) will guide you through the journey.
Enrolled journeys are listed in My Journeys page. You can then browse chapters of journeys and enroll to individual chapters in any order. Click on the Info Button on the right to view the details of the journey and chapters. The numbers on the right show new messages and the current scores of the journey. You will accumulate scores as you chat with Lucy to complete activities of chapters.
When you enroll to a journey, you will be enrolled to the first chapter of the journey and listed in chapter list page of the journey like below.
Lucy (AI guide) will then send a message to you to help you start the first activity like below. When you complete the activity, Lucy will then send next activities. If you find the currently activity too challenging, you can always send messages to tutors for help using the Tutor button. When you complete activities, you will accumulate credits for chapters and journeys.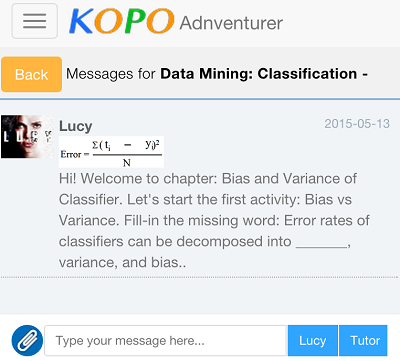 You can use the chat as calculator as well. Just type '#' at the beginning of the message and enter your formula. E.g., '# 243/2', '# var a = 12/2; var b = Math.pow(23,2); Math.sqrt(b)'. You can view available Math methods here. 
Adventurers can also connect with friends and share experiences or journey together with friends. Lucy will always be there as your friend. Say hello to Lucy. Currently her knowledge base is limited, but we will keep expanding the knowledge base. Lucy will become smarter and smarter to become more helpful guide overtime. 
Creating Groups for Journeys
You can form groups by clicking on Groups button on Chapter list page or Message list page for the current journey.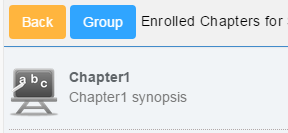 A group leader should create a group and others can join the group. Make sure to select the right season for the group as instructed by the tutor.
You can see leader board of your group once you join a group.
Designer
Click Designer button on the homepage to open Designer application on Adventurer. On Designer, click on Journey Editor to add, edit, or clone journeys. Click on adventurer list action button to see the list of adventurers who have enrolled to the journeys.
Click on a journey to edit an existing journey.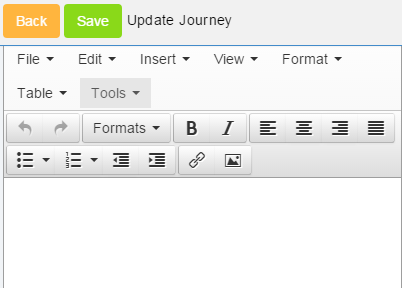 You can use the fullscreen mode by clicking on Fullscreen button on the editor. Images and video files can be embedded in the editor. Use rich formatting tool to directly create contents. You can also directly copy and paste formatted contents from any other editors. It is always a good idea to add a picture/video at the beginning of the description and add more detailed descriptions below the picture.
Each journey has its own forum channel. Anyone can post in the forum channels for support and to share experiences. Adventurers can enroll to journeys using KOPO ME Adventurer. A journey can have several chapters and each chapter can have several activities. When an adventurer enrolls to a journey, he/she will be automatically enrolled to the first chapter of the journey and the first activity of the chapter. If there are no activities in a chapter, adventurers can still use the chat channel to communicate with tutors. If there are no chapters, adventurers can use the forum channel to communicate with designers and other adventurers.
Journeys can be shared and shared journeys can be cloned by others. When cloning journeys, associated chapters and activities will not be cloned with the journey.
Supporter
Supporter is for tutors to monitor progress of players enrolled to the journeys that the tutors have created. Tutors can send messages to players to help them complete the activities.
Click on Supporter button on Adventurer to open Support application. Designers and tutors can use Journey supporter to support adventurers through forums and chapter chat-channels. Supporter can also observe how adventurers interact with Lucy in real-time. Send messages to adventurers to help finish the activities.
You can add tutors for journeys by adding them as editors of the journeys you created. Please note, they will be able to add chapters, but cannot edit. To allow them to edit existing chapters, add them as editors for the chapters.
File Repository
Use free online file repository to store media files for creating journeys and adventures.
Contact Management
Adventurer can use the contact management to manage friends. Send out invitations and manage invites received.