Welcome to DC E-POS: Online Point-Of-Sales system for cash sales and online sales.
Purchase order tracking for buyers.
E-POS systems for merchants. Creating merchant accounts and managing sales orders.
Kindergarten and Tuition Center Features.
Purchase Order Tracking for Buyers
Buyers can check orders placed by clicking on "My Orders" menu item:

My Orders page lists all purchase orders placed by the buyer. To see the details of a purchase order, click on the purchase order in the list.

Buyers can confirm delivery of the entire order or request for refund:

Buyers can also confirm delivery of individual items in the item list by clicking on the confirm button for the items:
Buyers can send enquiries to sellers using the chat interface.

E-POS System for Merchants
To become a seller, the seller creates a company account. Sellers then can see additional merchant features: Cash Sales, Product List, and Order pages on E-Pos application.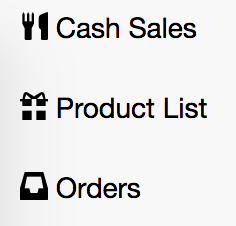 Cash Sales allows merchants create and view cash sales at shops.
Product List allows merchants add, edit, and view products.
Orders page shows purchase orders from buyers. Merchants can update delivery status, or perform refund or cancellation of orders.
Docentron E-POS system has the following main features:
Customers can pay using Docentron Reward Points. More customers will come to your shop to get the benefit of our royalty program.
Supports multiple currencies. Vendors can create companies in major currencies.
Supports barcode checking.
Automatic inventory update for sales and refund of items. 
Supports multiple staff accounts concurrently with access controls. Owners can limit who can view accounts and perform sales transactions.
Supports thousands of items.
Track cash and card payment amounts.
Sell online:. 

Create product pages and product options available for each product.
Create shipping locations for the company
Track orders and communicate using built-in chat application

Docentron provides support services:

Installation of barcode scanners and receipt printers
Customisation of the POS interface
Training and Education 
In order to use the merchant facilities, the shop owner needs to create a company account using the advanced registration page: 
Please create a new user account in the registration page of KOPO.COM. Make sure to select the advanced mode in the registration screen.
Select the country for your company. This will be used as the main currency of your company accounts. It is not advised to change this after the company is created and products and other company informations are added. ** Prices will NOT be automatically converted to the new currency of the country.
Check Create as a company account option to create a company:

Enter other details and click Create.
Log out and login to refresh the status.
Check company details in the account page (click on Company button in the user account page)

Add staff accounts and add permissions. The owner of the company has the fully access permissions.

Adding products by scanning barcodes of retail products:
Click on E-POS button on the home page of KOPO.COM to open Docentron E-Commerce application.

Click on Product List menu item and click Add button

Scan a product using a barcode scanner into the barcode input and enter product price and other details. Click Create to add the product to the database. Add all products you would like to sell.
** If you require assistance in setting up barcode scanners, please contact Docentron staff in your country. Our friendly staff will assist you.
 
Making Cash Sales:
Now we have products that we can start to sell. If you make a mistake, you can make a refund and create another sale.
Simply scan the product barcode into the barcode input or we can click Prd List button to browse products in the database.

Enter the quantity and adjust the price if necessary.
After adding the items, click Payment button. Enter cash and/or card payment amounts.
If the customer wants to use Docentron reward points, enter the phone number of the customer. 

Click Check Phone button to check the reward point balance.
Enter the reward point amount to be used for the payment.
Send a verification code the customer to verify the customer. They will receive a verification code in the chat message in KOPO.COM application. They must login and check the messages and confirm the verification code.
** Maximum reward point spend has daily caps for each vendor. 

Finally, calculate any cash changes for the customer by clicking on Calculate button.
Check and click Create Sales when done
Sales Refund:
To refund a sales, click on the sales item in the sales list to open the sales view, and then click refund.
Kindergarten and Tuition Center Features
Docentron E-POS has additional features to support Kindergarten and tuition centers. Please note, the school first needs to create a corporate account with Docentron before using this feature.
To add school programs (terms), click on "Add Program" button in the Product List page.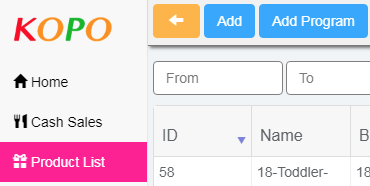 Enter term code, price, name, and description in the program product page. Select program type, term, and start date:

Create the program by clicking on "Create" button.
The school can now enroll students using "Cash Sales" at shops. Click on "Add Sales" button on Cash Sales page.

Click on Prd List button to select a term product from the product list.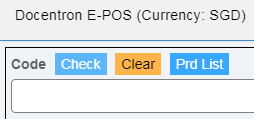 Enter parent phone number and click "Check Phone". List of children of the parent will be shown. Select a child from the list or enter the first name of a new child.

If the parent does not have an account with the school already, click on "Create Account" button to create an account for the parent.
Click "Add Item" button to add the term to the purchase list. Add other products such as uniforms, bags, and textbooks.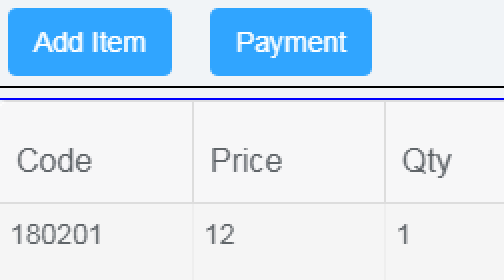 Click "Payment" button to enter payment details.
Please contact our staff if you need any assistance. Please post comments and questions.