This game is made for preschool students. Students have to recognize which one of the object belongs to consonant or vowel alphabets.
Alphabets consist of 26 letters. There are 2 types of letters in the alphabet, vowel, and consonant. A consonant is a letter of an alphabet that denotes a consonant sound. The 21 consonant letters in the English alphabet are B, C, D, F, G, H, J, K, L, M, N, P, Q, R, S, T, V, X, Z, and usually W and Y. A vowel is a letter of an alphabet that denotes a vowel sound like A, I, U, E, O.
In this journey, students will play several games to recognize letter and objects that using consonant or vowel letter and also learn how to write vowel by making lines through the paths that have been given.
By playing the games, a preschool student will easier to distinguish vowel and consonant alphabets.
These are the screen shot of the  chapters in this journey:
1. Chapter 1
 2. Chapter 2
3. Chapter 3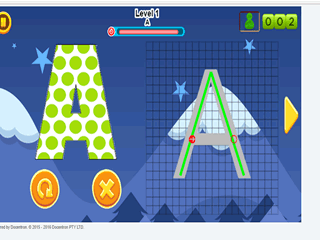 4. Chapter 4