Breath Sound Analyser for Children (KDAC)
This system provides respiratory health information based on breathing sounds recorded by using computers, mobile phones, and digital recorders.The system can detect four types of respiratory health problems for young children (age range 0.5 to 7 years): pneumonia, flu, bronchitis, and colds. The system also supports detecting general respiratory problems for all ages. Record breathing sound using your computer or mobile phone and upload the sound file to receive diagnosis results and statistics of the breathing sound.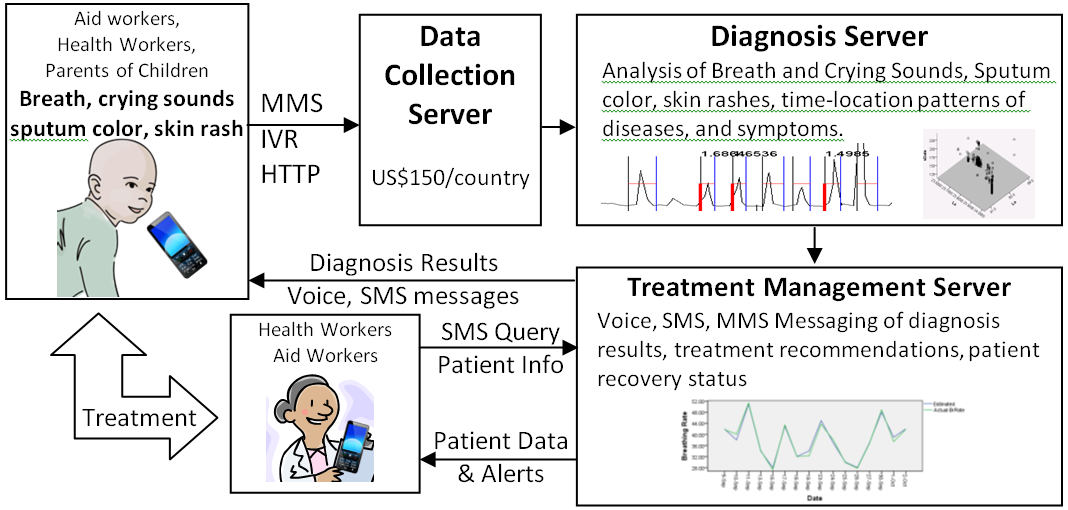 Recording Breathing Sound
How to record breathing sound using mobile phones
Place the microphone of your mobile phone directly under the nose or mouth, as close as possible, but not touching the baby.
The best time to record is when the baby is asleep or resting. Please DO NOT ask to "breath" to avoid forceful breathing.
After recording, playback the recorded sound to check if you can hear the breathing sound. Record the breathing sound at least for 1 minute (or 7 to 9 breaths).  
The best method is to use a handsfree microphone, which usually comes with mobile phones. You can upload the sound file using this application: KOPO DAC.
Recording Instruction in English
The picture shows how the handsfree kit of a mobile device is used to collect breathing sound. After recording, please playback to check the sound before uploading.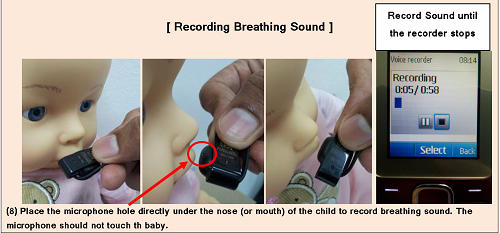 Recording Instruction in Bengali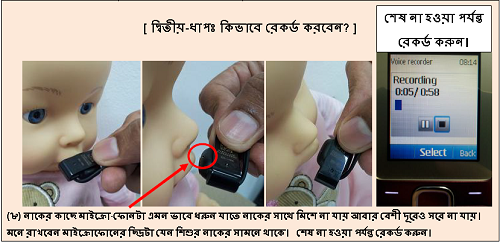 Recording Using KDAC
1. On the home page click "Breathing Sound Analysis" button to start.
2. You can record breathing sound directly using the application on Google Chrome by clicking "Turn on audio" button. If you don't have Google Chrome, please download and install.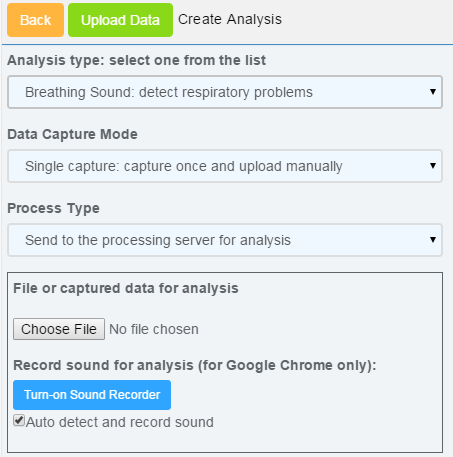 3. You may need to click allow Microphone access.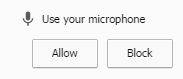 If you blocked access previously, please change it by clicking on the media access setting button on Google Chrome.

  <-- click the video icon on the URL bar of the browser to change the access setting
4. Place the microphone under the nose without touching the nose. Please DO NOT ask the patient to "breath". It should be recorded in a natural resting position. The recording will automatically start if it detects breathing sound. Use the spectrum chart to monitor the number of breathing sounds and the length of the sound. Record at least 40 to 50 seconds for good results.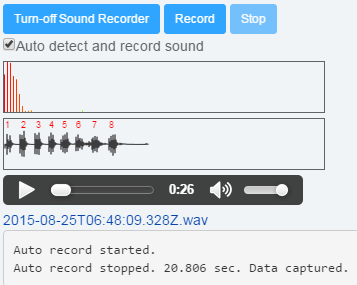 5. Click "Check result" button after a few minutes. If the result is available, you can view the results by clicking on "View Result" button.
Sample Sound
Here is a sample sound captured for breathing sound analysis. You can download and upload for testing the system.
Feedback and Support
Please leave your questions in the forum by clicking on the FORUM button at the top. We appreciate your feedback for improving the system. 
Publications
Insu Song (2015), Diagnosis of Pneumonia From Sounds Collected Using Low Cost Cell Phones, IJCNN 2015. IEEE. PDF.